S3M-SGMV: The Online measurement, monitoring & management system for LV transformer & substation.
 S3M-SGMV is an Online measurement, monitoring & management system for LV transformer & substation. S3M-SGMV is capable of replacing traditional operation & management method, it can reduce man power, enhancing safety for electrical assets, grid and workers. The S3M-SGMV provide the comprehensive and accurate data for online measurement, monitoring and management.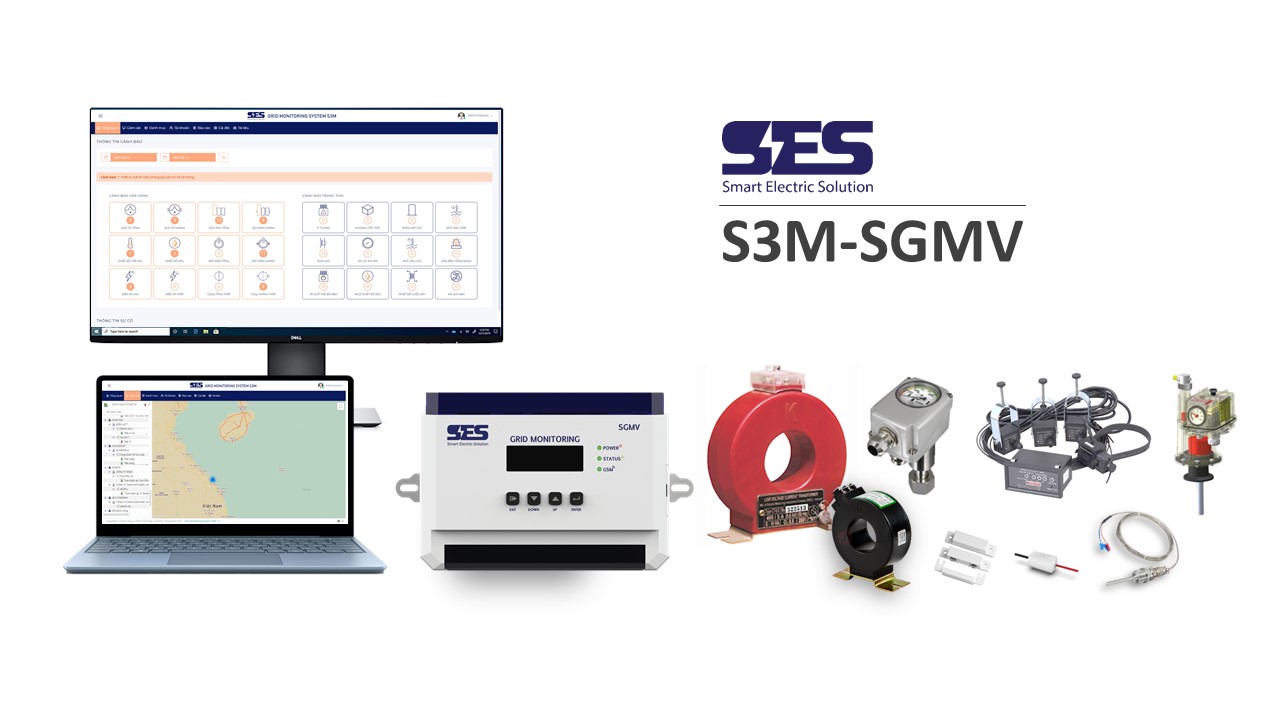 The strength of the S3M-SGMV system is easy to deploy and install; furthermore, in can be integrated with any LV substations to change the on-site measurement & management method to Online managing.
System Compatibility
Compatible with all type of Transformers
 The S3M-SGMV system is compatible with all type of Transformers that available on the market. The system has fully monitoring function to manage a transformer (via measuring electrical parameter as well as the status of the auxiliary equipment in substation).
Compatible with all type of LV cabinet
 Not only monitor the transformer, the S3M-SGMV also monitor all the main & branches circuit for the comprehensive management of low voltage distribution grid. This comprehensive management is necessary for a stable electrical grid's operation.
.
S3M-SGMV system: toward the smart grid system in Vietnam
 The S3M-SGMV is a strong & useful tool for centralized management of LV grid. Under the eyes of a substation manager, a centralize management tool will assist him to predict abnormal, faults as well as the state of the electrical assets. The prediction might greatly base on the real-time data that collected by the management system.
 For the operator, the prediction of faults and abnormal will help him to make decision about maintenance time and the exact position that need inspection.
 Traditionally, most of substations (from MV to LV) is decentralize operated and managed, this leads to high cost of operation (due to large number of workers. Furthermore, the traditional management way is lack of awareness (about abnormal, incidents) which can cause electrical insecurity or even fire, explosion in the electrical system.
 Once the LV substations are equipped with S3M-SGMV system, a network of LV substation will be Online managed. The monitoring data is in real-time and the operator will be aware of the operation of many LV substations at the same time.
S3M-SGMV features
Transformer: Measuring & monitoring electrical parameter in the main circuit
Cosφ
Power factor Cosφ (PF)
Other important energy parameters
LV cabinet: Measurement & monitoring electrical parameter in the branch circuit
Cosφ
Power factor Cosφ (PF)
Other important energy parameters
Temperature parameter monitoring & measurement
Transformer top-oil temperature
Transformer terminal contact temperature
LV cabinet temperature
Bus bar contact temperature
Environment temperature
Other temperature parameter
Customer can request further monitoring solution according to their needs
Monitoring the state of other auxiliary monitoring devices
Locating short-circuit in MV underground cables
Transformer oil level
Gas relay's state
Transformer internal air pressure
Substation door open/close state
Electrical leakage
Mô tả cấu trúc hệ thống S3M-SGMV
 The aim of the S3M-SGMV system is deploying a network for centralize management of LV substation, the substation monitoring & measurement process can be performed remotely via S3M software. This is convenient in management and monitoring on a large scale, saving labor & operating cost.
 S3M-SGMV is an Online management, monitoring and measurement for LV substation with many utilities that can meet all the needs for 3M (Measurement-Monitoring-Management). S3M-SGMV solution have been deployed in many provinces and regions across the country, our solution is directly installed and exploited by EVN on the distribution grid in Ha Noi, Ben Tre, Quang Nam, Bac Ninh, Bac Giang and HCM city.
The S3M-SGMV system is suitable for both LV grid in residential area and industrial area, factory infrastructure, this is an useful tool that can be integrated with the energy management system SEMS-L and provided a comprehensive management of the factory electrical system.
Data gathering device SGMV
 Is a multifunction monitoring device for LV transformer and LV cabinet,
Functions
The device is capable of collecting and processing multi-point data in real time, including:
– Electrical parameter (main, branch): U, I, Cos ϕ, P, Q, S, Et.
– Transformer oil temperature.
– Transformer LV terminal contact temperature.
– Environment and LV cabinet temperature.
– Busbar & MCCB contact point.
– States of substation auxiliary equipment: Fault indicator, oil-level, gas relay, SF6 density.
– Substation, energy meter door open state, electrical leakage monitoring.
Device dimension
S3M software
 S3M-WS4.0 is a monitoring software which perform Online monitoring, management and early warning (by collecting data from SGMV device), this is a management software that was designed and developed by SES with many features:
– Visual interface and simple to use with tables and charts. The data is organized and displayed logically.
– Capable of accessing, exporting and displaying unlimited data ((by day, month, year and years).
– SGMV devices are displayed and managed on GIS digital map.
– User authorization function.
– Alarms and warning are displayed in the main screen (include operational & device status warning)
The network of LV substation is displayed visually, user-friendly and easy to use.
Energy parameter can be checked easily at each substation.
The 'Chart' function support user to analyze (operating) data conveniently.
Operating and device status alarming signal are sent and processed by S3M system, then S3M system directly send the alarm to users via SMS, E-mail.
The interface and functions of the software are designed & developed logically, suitable for every level of user.
Catalogue hệ thống đo lường, giám sát, quản lý Trạm biến áp và lưới điện hạ áp online S3M-SGMV