What is Clamp-type, open-type CT?
A Clamp-type, so called open-type CT allow user to open it structure for more convenient installation.
Advantages of using Open-type CT:
The main advantage of open-type CT compare to other type is that it allows to open it component. In case of replacing or re-installing current transformers into operating power systems, the structure of the open-type CT makes it easier to perform the task. For example, a LV cabinet is required to install a new measurement system. Normally, it required a power cut in order to remove the electric cable, then install new CTs. This process can greatly be improved by using Open-type CT, all the tasks now can be done safely while the electric system is still live.
ILEC compare to other manufacturer
Most of the Open-type CTs are imported from foreign country. In case of urgently need, it will take times until the package is received and put into use. Currently, ILEC produces this type of current transformer domestically, so the response time is much faster.
Manufacturer
ILEC
Warranty
12 months according to Manufacturer terms & policies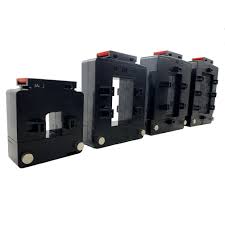 THÔNG SỐ SẢN PHẨM
Mã biến dòng
Kích thước cửa sổ
Tỉ số biến dòng
JP-23
20x30mm
100/5A, 150/5A, 200/5A, 250/5A, 300/5A, 400/5A, 500/5A, 600/5A, 800/5A, 1000/5A
JP-46
40x60mm
300/5A, 400/5A, 500/5A, 600/5A, 800/5A, 1000/5A, 1200/5A, 1500/5A, 1600/5A, 2000/5A, 2500/5A, 3000/5A, 3200/5A
JP-58
50x80mm
300/5A, 400/5A, 500/5A, 600/5A, 800/5A, 1000/5A, 1200/5A, 1600/5A, 2000/5A, 2500/5A, 3200/5A, 4000/5A
JP-510
50x100mm
400/5A, 500/5A, 600/5A, 800/5A, 1000/5A, 1200/5A, 1600/5A, 2000/5A, 2500/5A, 3200/5A, 4000/5A, 5000/5A
JP-812
80x120mm
800/5A, 1000/5A, 1200/5A, 1600/5A, 2000/5A, 2500/5A, 3000/5A, 3200/5A, 4000/5A
JP-614
60x140mm
800/5A, 1000/5A, 1200/5A, 1600/5A, 2000/5A, 2500/5A, 3000/5A, 3200/5A, 4000/5A, 5000/5A, 6000/5A và cao hơn
a
80x160mm
800/5A, 1000/5A, 1200/5A, 1600/5A, 2000/5A, 2500/5A, 3000/5A, 3200/5A, 4000/5A, 5000/5A, 6000/5A
 

Giá biến dòng kẹp ILEC

| | | |
| --- | --- | --- |
| Biến dòng | Tỉ số | Công suất |
| JP-23 | 100/5A | 1VA |
| JP-23 | 150/5A | 1VA |
| JP-23 | 200/5A | 1.5VA |
| JP-23 | 200/5A | 2.5VA |
| JP-23 | 250/5A | 2.5VA |
| JP-23 | 300/5A | 2.5VA |
| JP-23 | 400/5A | 3.75VA |
| JP-23 | 500/5A | 3.75VA |
| JP-23 | 600/5A | 3.75VA |
| JP-23 | 800/5A | 3.75VA |
| JP-58 | 300/5A | 3.75VA |
| JP-58 | 400/5A | 3.75VA |
| JP-58 | 500/5A | 5VA |
| JP-58 | 600/5A | 5VA |
| JP-58 | 800/5A | 5VA |
| JP-58 | 1000/5A | 5VA |
| JP-58 | 1200/5A | 5VA |
| JP-58 | 1600/5A | 5VA |
| JP-58 | 2000/5A | 5VA |
| JP-58 | 2500/5A | 5VA |
| JP-58 | 3000/5A | 5VA |
| JP-58 | 3200/5A | 5VA |
| JP-58 | 4000/5A | 5VA |
| JP-510 | 500/5A | 5VA |
| JP-510 | 600/5A | 5VA |
| JP-510 | 800/5A | 5VA |
| JP-510 | 1000/5A | 7.5VA |
| JP-510 | 1200/5A | 7.5VA |
| JP-510 | 1600/5A | 10VA |
| JP-510 | 2000/5A | 10VA |
| JP-510 | 2500/5A | 10VA |
| JP-510 | 3000/5A | 10VA |
| JP-510 | 3200/5A | 10VA |
| JP-510 | 4000/5A | 10VA |
| JP-510 | 5000/5A | 10VA |
| JP-812 | 1000/5A | 7.5VA |
| JP-812 | 1200/5A | 7.5VA |
| JP-812 | 1600/5A | 10VA |
| JP-812 | 2000/5A | 10VA |
| JP-812 | 2500/5A | 10VA |
| JP-812 | 3000/5A | 10VA |
| JP-816 | 1000/5A | 7.5VA |
| JP-816 | 1200/5A | 7.5VA |
| JP-816 | 1600/5A | 15VA |
| JP-816 | 2000/5A | 15VA |
| JP-816 | 2500/5A | 20VA |
| JP-816 | 3000/5A | 20VA |
| JP-816 | 3200/5A | 20VA |
| JP-816 | 4000/5A | 20VA |
| JP-816 | 5000/5A | 20VA |
| JP-816 | 6000/5A | 20VA |
KÍCH THƯỚC